I'm linkin up again with The Lovely Lori for her Get your Craft on Thursday. Little late this morning posting but I had coffee this morn with my "Favorite Airforce
Wife
Husband" accompanied by a lil chit
chatting
bashing on life! So a pot of joe later and I am ready to show you my craftiness for the week...
It was super easy and it's nothing big and didn't require alot on my part but it's one of my favorite parts of the computer room.
I'm cheap and you should all know that by now, sorry but it was either genetically ingrained or the military pay check that has caused me to be this way...I could go on and on about my lack of spending and that my favorite phrase is "After taxes" bahahaha. But I will continue on to the good stuff.
On my Hobby Lobby trip a few weeks ago I caught some great deals and instead of getting what I needed to finish my on going projects I walked out with new materials and inspiration for new goodies...Don't you love when that happens?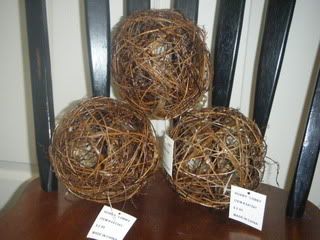 I bought these because I love decorating with them, they were also on SALE :) But I didn't want to do the normal thing with them i.e. display them in a cute container. My computer room is lacking in "table space" and "wall space" so I'm having to think outside the box in this room!


SOOO what to do.... I've got a soft spot for ribbons and sparkle but not in the conventional way. And I always fall in love with the most expensive ones, but never talk myself into buying it...unless it's on SALE....dang it was my lucky day!
But for once I didn't have to settle on the one I liked but didn't LOVE at half price I couldn't pass it up...you'll have to tune in later to see what else I have done with the ribbon.






So you add it all up, throw in a little hot glue for good measure, a few nails for hanging and this is what you get.....






So I LOVE them and it was so easy peasy!! Here's a look at it from the door way...so you can get the full effect. I'm still trying to find the perfect curtains for this room...it might be what I spend some of my "cut" of the taxes on, we'll see. I guess it's been so long since I bought curtains I didn't realize how hard finding the perfect ones is!





Well now I'm off to shampoo up the puppy pee blahh, help the Hubs pack and pull dinner for 10 out of my a&% with what I have left the day before payday....this should be interesting.

Have fun Crafting ya'll!