V-day is soon approaching and I'm soo excited. Even though I have spent at least 6 (that I can remember) out of 10 years of Valentines Days with the Hubs gone....I've never lost that giddy school girl feeling over a day devoted to romance.

It's looking like this may be year number 7, so this year I thought I'd do something I've never done before...send gifts to other women that I barely know from online. NO I am not on the internet trolling, I joined a Valentines Day Swap.....doesn't that sound great?

Katie is so graciously hosting a swap and it sounds like so much FUN! I think it is so awesome that someone, somewhere, is gonna send me some great surprises, and I get to do the same! Head on over, check it out and let me know if you sign up!! I can't wait..it's like Christmas all over again!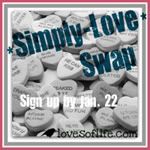 p.s. Don't be mad at the Hubby, I'm not, I miss him, but I'm so proud of him I'll excuse his absences :) Plus he buys me goowit stuff <3